ACCA in Nepal is a prestigious chartered accountancy ACCA course of British origins on offer to students after completion of their plus two. It is a brilliant career choice with international recognition, stable income, flexible career choice, and professional acknowledgment. ACCA is a globally sought after qualification by millions of high school students like plus 2 students of Nepal for leaping forward with their professional lives. It stands out as a great career choice for people wishing to expand beyond the horizon and swiftly grab career opportunities in any corner of the world. Choose to be a professional and dynamic prospect professional sector of your choice with ACCA in Nepal.
Why choose ACCA?
ACCA is the largest association of chartered Accountants in the world. ACCA in Nepal is part of the bigger global network which maintains its presence in over 180 countries. With over 227,000 members and 544,000 students, ACCA body headquartered in the UK commands trust, respect, and recognition from Governments, Multinational Companies, Non-Governmental Organizations, and prestigious accounting bodies. ACCA is a dynamic career pathway with a choice to opt for a future in a range of industries and countries of student's selection for a successful life upon its completion.
Why choose to study ACCA in Kathmandu or even inside Nepal?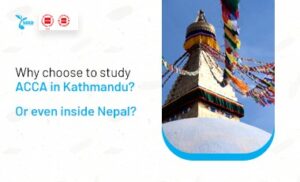 The Nepali market has other chartered accountancy like ICAI from India and ICAN from Nepal – so what makes ACCA better over them. The plus two students need to realize all chartered accountancy programs are amazing qualifications in their respective rights. However, ACCA carries these edges over previously mentioned programs and several other chartered accountancy across the world:
International recognition: The stamp of approval from the European Union, United Nations, and various Inter-Governmental organizations exhibits the status of ACCA qualification on a global level. Further, the joint examination ACCA conducts in Caribbean Nations, United Arab Emirates (UAE), and Singapore – allows students from any countries to practice in their borders if they have completed the respective papers of these countries. The students with ACCA qualification can choose to work in Nepal or any 180 other countries of their choice with global version paper offered during exams.
Flexible career choice: Best ACCA College in Nepal may be a tough find but not the career choices in ACCA. We share it with the experience of our faculty and students at SEED Financial Academy. ACCA graduates can choose to be work in taxation, auditing, finance, business management, banking, insurance, and countless other business-related sectors of their choice.
Professional acknowledgment: The rigorously designed scientific course material and practical problem-solving skills blended in the course materials ensure every ACCA is right for the job. The ACCA's command workplace authority and acknowledgment throughout the world due to the rigorous test of Practical Experience Requirement and 14 examinations papers that prepare ACCA's for actual-world problems.
Stable income: Students may feel like the ACCA institute in Kathmandu is fanning out ACCA benefits like every other course in Nepal for their gains. However, it is far from the truth, the base salary of an ACCA Member starts from 20,000 and can go up to 90,000 depending on the organization along with individual ACCA's personal experience. The salary level for starting ACCA in UAE range from 4000 to 9000 AED. The yearly salary packages for final year ACCA students stand at 30,000 British Pounds in the UK.
Where can plus 2 students find more information on ACCA?
If you are looking for information on ACCA in Kathmandu or ACCA in Nepal, then SEED Financial Academy is the Best ACCA College in Nepal for your guide. Visit the Seed Financial Academy, one of the premier ACCA institutes in Kathmandu's Dillibazar for added information on pre-requisites, course structure, detailed career guide, and more.