What is the Condition of the Job-Market for ACCA Members in Nepal?
ACCA Internship in Nepal- It's in high demand. In Nepal, ACCA members have been working in a wide range of industries, from corporate to nonprofit, and their responsibilities vary based on the type and size of the organization. Whether it be jobs related to accounting, auditing, finance, capital markets, marketing, human resource, or public sector accounting or even the CFO and CEO of the company ACCA members are frequently sought after.
Despite high unemployment rates even among the graduates in Nepal, ACCA graduates and members have been able to secure lucrative jobs staying in their home country.  The job roles and the stipend attached with it is highly motivating making ACCA one of the safe and secure career. In other words, job security is the key characteristic of ACCA qualification.
A picture is worth a thousand words. The table below has attempted to cover the most common jobs that ACCA members are employed and sought for. However, this is not the exclusive list as the world of accounting and finance has a broad range of jobs to offer.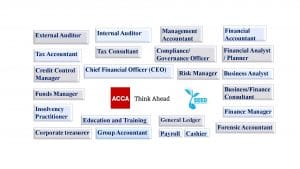 Similarly, many ACCAs are successful businessperson and entrepreneurs which is not shown above.
 Where do ACCA Members Work?
As said earlier, a wide range of industries. Again, the non-exclusive list is portrayed below: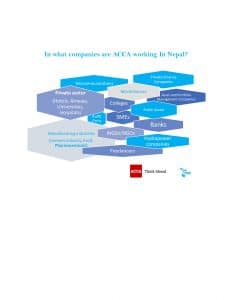 What About the Impact of Covid-19 on ACCA Jobs in Nepal?
Since most of the ACCA are employed in bigger companies who can sustain through the pandemic, there has not been much news of layoffs and redundancies as compared to other sectors. Similarly, talking about the future, the economy is the backbone of the country and accounting and finance being an integral part of it, the country is going to require more professionals in this field to bring back to the normal. The job market is very unsaturated and the demand for ACCAs only seem to be going up.
I am an ACCA member in Nepal, where do I look for jobs?
Seed Financial Academy update jobs exclusively for ACCAs. Similarly, Online job portals have evolved to be the best place to look for all jobs including ACCA:
Below are some of the famous job portals of Nepal:
Besides this, Linkedin is one of the famous social media to build connections, get recommendations and vacancies. Newspaper and social media pages and groups like ACCA club Nepal also provide information about vacancies. Sometimes, it also pays off to physically visit the offices to ask for vacancies.
Seed Financial Academy- ACCA college in Nepal as partnered with reputed audit firms making it easy for students to land ACCA internships in Nepal. Internships in good firms are a major career booster that enhances employability. Therefore, it's better to enquire about such partnerships.
Another blog- Career opportunities after ACCA gives a greater insight into the ACCA job roles.